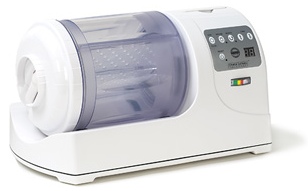 Over the past year or so I've become increasingly grossed out by large slabs of meat. Especially at a restaurant when they bring out said slab of meat and the outside is nice and brown but you cut in to it and it's practically still mooing. Blah.
Well now with the lovely CulinaryPrep food sanitizer you can practically eat the meat raw as it is so kind to help "sanitize" your food.
Supposedly it removes up to 99.5% of all food borne bacteria and germs. The "up to" part is what makes me a tad uncomfortable…meaning it only might remove all the nasties from your meat. Or it might not.
The Culinary Prep will set you back about $400. I don't plan on putting a slab of meat in a little kitchen gadget to "clean" it any time soon.
[via Crave]