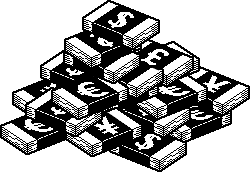 Want to find out how rich you are in relation to the rest of the world? Check out Global Rich List!
Okay, now that you're back from checking that out, it's clear that Global Rich List serves a much bigger purpose than just telling you how rich you are. Chances are, if you're able to access the internet and are reading a blog about "stuff", no matter what you're income is you are still in the top 10% of the richest people in the world.
That is because, regardless of how little money you think you make, you are extremely rich in comparison to the rest of the world.
Global Rich List was put together by the folks at Poke to help raise awareness for how even donating a small amount of money can change the lives of others around the world.
$8 could buy you 15 organic apples OR 25 fruit trees for farmers in Honduras to grow and sell fruit at their local market.

$30 could buy you an ER DVD Boxset OR a First Aid kit for a village in Haiti.

$73 could buy you a new mobile phone OR a new mobile health clinic to care for AIDS orphans in Uganda.

$2400 could buy you a second generation High Definition TV OR schooling for an entire generation of school children in an Angolan village.
Check out Global Rich List and figure out how you can donate some money and help others around the world.