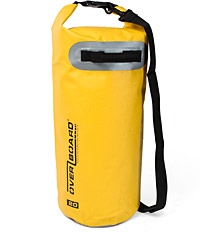 Whether you're at the beach, the pool, the gym, or anywhere else that might have water around…the Overboard Dry Tube Bag is here to the rescue!
It is constructed from 420D nylon-coated tarpauline and sealed tight via a patented Fold Seal System…meaning your junk isn't getting wet…period.
It has a capacity of about 20L (or the size of a regular duffle bag or backpack) so it's not too big but not so small that you can't fit anything in at.
It's available from Firebox. at a reasonably priced $39.95.
[via Uncrate]